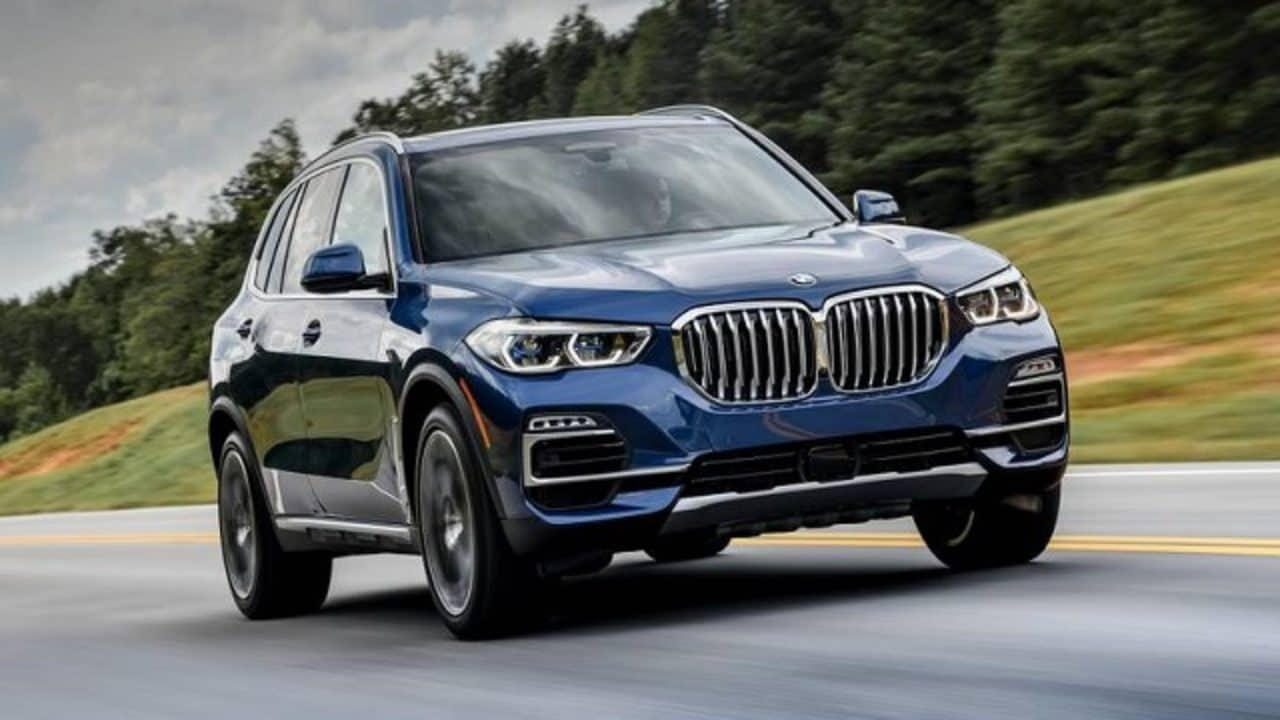 Equipped with advanced driving dynamics, exceptional engineering, and impressive design, the BMW X5 from BMW of West Springfield gets you where you need to be.
The 2021 BMW is a crowd favorite in West Springfield and the main reason why we keep such a healthy inventory on hand. Known as the big brother to the BMW X3, the X5 is the go-to SAV for those who need the space to move. We see this vehicle fitting medium sized families with pets, those who wants to go camping with a large haul (perhaps glamping is the better term), or those who either coach or play team-based sports. From lacrosse to football, racking the bikes for the trail and everything in between, the 2021 BMW X5 is the one SUV sought after more than the rest.
The BMW X5 Mid – Size Luxury SAV model is THE suv for a new generation, with heated seats and steering wheel, with ample cargo capacity (more than the comparable Mercedes Benz, specifically the Mercedes-Benz GLE-Class), rear seats with comfortable passenger seating, and options for comfort that make your life easier, including gesture control. The standard power split tailgate makes it easy to access up to 72.3 square feet of cargo space in the midsize SAV. The Panoramic Moonroof on the BMW X5 allows you to see more of the great wide world, while making the spacious interior feel even bigger. You can perfect the temperature in your vehicle from the comfort of your home, hop on with keyless entry, and then use the handy USB port when you get in to charge your devices. Glass Controls, heated front armrests, and high-quality leathers are available for you to choose from.
2021 BMW X5 CORE MODELS
The 2021 BMW X5 sDrive40i and X5 xDrive40i are natural leaders in every way, the 2021 BMW X5 sDrive40i and X5 xDrive40i Sports Activity Vehicles® deliver performance, utility, and comfort.
2021 BMW X5 SDRIVE40I AND X5 XDRIVE40I
A natural leader in every way, the 2021 BMW X5 sDrive40i and X5 xDrive40i Sports Activity Vehicles® deliver performance, utility, and comfort. With a spacious layout, undeniable style, and efficient engineering, the BMW X5 is ready to embrace every adventure. With a towing capacity of up to 7,200 pounds, the available factory-installed trailer hitch allows you to bring the boat or camper on your next adventure. Optional third-row seating allows you to bring the whole crew on your next adventure. When not needed, this row folds down flush into the floor to maximize cargo space in your X5. Available Back-up Assistant, part of the Parking Assistance Package, records and retraces up to 160 feet of your most recent steering inputs – so you can easily maneuver out of confined or difficult situations. The unbridled power of the 3.0-liter inline 6-cylinder engine is augmented by the new 48V mild-hybrid technology, which delivers heightened eBoost power and optimizes efficiency. The eye-catching enhancements of the available M Sport Package deliver cutting-edge options – including up to 22" wheels and Adaptive M Suspension.
2021 BMW X5 XDRIVE45E
Experience a dynamic Sports Activity Vehicle® that's powerful and stylish – combining the benefits of an electric vehicle with the flexibility of a combustion engine. The forward-thinking engineering of the BMW X5 xDrive45e translates into everyday benefits – with the potential to reduce fuel usage, commute time, and save thousands of dollars with federal and state incentives. Choosing a plug-in hybrid can improve the efficiency of your daily drives and your daily life. In addition to potential fuel savings and often times preferential parking for charging, you could save time with single-occupancy HOV lane access and more. Learn more about the eligibility and availability of incentives offered in your community. You may also be eligible for more financial incentives in the form of tax credits at both the federal and state level, in addition to qualifying for state rebates and grants.
2021 BMW X5 M50I
Experience exceptional performance with the 2021 BMW X5 M50i Sports Activity Vehicle® – built for you to take on any challenge. Your world just got a little bigger. Get ready to take on any terrain in the BMW X5 M50i – equipped with more power and more options. Merge into life's fast lane with a V-8 engine tuned to deliver 523 horsepower. Leave a lasting impression with the standard M Sport Exhaust System. Tackle any road trip or daily drive with 20" wheels and M Sport Brakes, both standard on the M50i. Standard Adaptive M Suspension gives you the freedom to choose between modes, so you can take your drive to a sportier level or feel the luxury of a comfortable drive. Turn heads and corners in this midsize SAV with standard M Sport Design, including an M steering wheel, the Aerodynamic kit, Shadowline exterior trim, Cerium Grey elements, and more. The standard M Sport Differential enhances control and sharper handling. Paddle shifters put you in charge of your driving experience with standard Sport Automatic Transmission.
2021 X5 M
A supremely powerful Sports Activity Vehicle® with design and engineering by BMW M. With design and engineering by the legends at BMW M, this muscular Sports Activity Vehicle shows off its impressive attributes. This isn't just another V-8 – it's a track-ready M TwinPower Turbo engine with advanced cooling systems and an enormous output. Experience the sportier drive of a performance-tuned all-wheel drive system. M xDrive comes standard for enhanced handling and agility. The optional Competition Package increases engine output to 617 horsepower, and adds the M Sport Exhaust System, gloss black exterior trim, and more. Designed to dominate. Engineered to excel. The 2021 BMW X5 M combines high-performance power with the versatility of an SAV.
Unleash up to 617 hp with the available Competition Package – and feel a new surge of confidence. The racetrack-proven cooling system in the M TwinPower Turbo V-8 engine includes four water pumps, six radiators, and a dedicated transmission cooler. The 8-speed M STEPTRONIC automatic transmission adjusts from smooth to aggressive with the three-stage Drivelogic shifting system. Manual shifting with steering wheel-mounted paddle shifters allow you to take complete control. Experience true lateral support with the bolstered construction of standard M Multi-Functional Seats. Adjustable comfort settings, illuminated badging, and Merino Leather upholstery add a luxury touch. The BMW X5 M's large front air intakes, M mirrors, and M double-bar kidney grille prove that powerful design places performance at the forefront. Intensify your look with a gloss-black finish, available with the Competition Package. Dominate the road with a rear diffuser and M-specific roof spoiler that direct airflow, while a wide rear stance and quad exhaust show off pure athletic presence. The X5 M also includes an available staggered wheel configuration up to 21" in the front and 22" in the rear.
ABOUT THE BMW X5
The BMW X5 is made in the United States at the Spartanburg Plant in South Carolina. The 2021 BMW X5 sDrive40i and X5 xDrive40i (xDrive means all-wheel drive) has optional third-row seating, for a total of seven seats. The standard configuration includes seating for five. The BMW X5 consistently ranks high in terms of reliability due to the advanced BMW TwinPower Turbo engine and innovative technology.
Intuitive safety features such as Active Cruise Control with Stop & Go and Extended Traffic Jam Assistant are also available to reduce the stress of every drive. BMW Ultimate Care is a comprehensive maintenance plan that covers all factory-recommended maintenance services for eligible models.
The maintenance coverage period is for the first 3 years or 36,000 miles, whichever comes first. All work covered by this maintenance plan is performed at authorized BMW Centers and by BMW Trained Technicians. These professionals use only Original BMW Parts to ensure the quality and performance of your BMW.
ENGINE AND DRIVETRAIN VARIANTS
3.0 liter inline 6-cylinder BMW TwinPower Turbo gasoline engine (X5 40i models)
4.4 liter V-8 BMW M TwinPower Turbo gasoline engine (X5 M50i)
Combination 3.0 liter inline 6-cylinder BMW TwinPower Turbo gasoline engine & electric motor (X5 xDrive45e)
FUEL ECONOMY
X5 xDrive45e: 50 combined mpge
X5 sDrive40i: 21 / 26 mpg (city / highway)
X5 xDrive40i: 21 / 25 mpg (city / highway)
X5 M50i: 16 / 22 mpg (city / highway)
WHERE IS THE BMW X5 GOING IN 2022?
The 2022 BMW X5 is a versatile player in the mid-size luxury-SUV segment, combining a well-appointed interior and a pleasurable driving experience in one handsome package. Even the entry-level models are richly outfitted with modern technology and convenience features, not to mention a silky-smooth inline-six cylinder engine. Upgrading to the plug-in hybrid model gives the X5 the ability to drive solely on electric power for short trips while the optional twin-turbo V-8 engine delivers seriously punchy acceleration. It might not be as plush inside as the Genesis GV80 , nor quite as athletic as the Porsche Cayenne , but when compared to SUVs such as the Audi Q7 Mercedes-Benz GLE-class the X5's well-roundedness shines through.