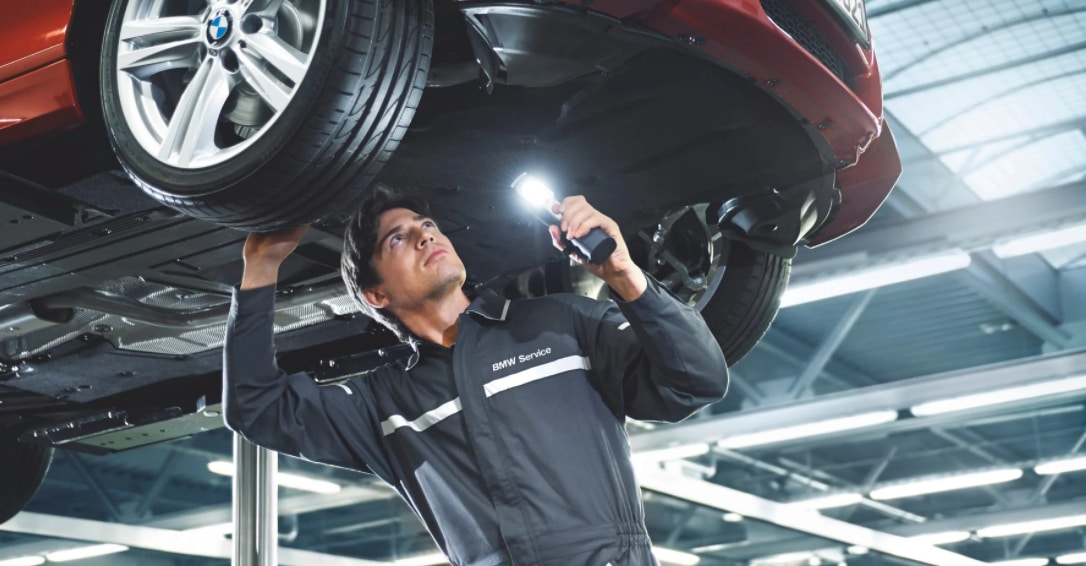 Are you prepared for the season's change? National Car Care Month is October so we put together a list of the 6 maintenance tasks you should perform on your BMW this fall.. Break out your tools or simply visit your auto service center and mechanic shop this fall, and your car will be ready for the winter season.

Build an Emergency Kit for Your Car

No matter the month, you should have a fully stocked emergency kit in your car. What should be included? Well, that's up to you, though there are certainly some must-have items to put in your car or roadside kit:
Phone charger – You probably have one in your car already
Potable water – Enough water to drink in the event you're stranded (about 1 gallon/person daily)
First-aid – Should include bandages, antiseptic/antibiotics, pain relievers, etc.
Snacks – Choose foods that are high in protein
Sand or cat litter – Useful for tire traction in snow, mud or ice
Portable snow shovel – If you live in colder climates, this is crucial
Blankets – Especially important when driving during colder months
Extra clothing – Socks, gloves and sweatshirts or jackets
Flashlight – To see at night, of course
Batteries – For your flashlight
Ice scraper – If you never leave South Florida, this obviously won't be necessary
Rags or paper towels – Messes happen, even when there's no grape soda around
Jumper cables – To jump-start a dead battery
Tools – Screwdriver, wrench, pliers, etc.
You can take the time to construct a kit yourself, though many people buy a pre-made emergency vehicle kit and supplement some other items as needed. Generic roadside kits can usually be found for under $30, or you can order an OEM accessory for your vehicle's brand.
Got a BMW? Ask a BMW dealer near you about ordering a BMW first-aid kit and other genuine auto accessories for your car.


Routine Maintenance


You spent thousands of dollars on your BMW. Why let it go to waste? Don't dilly-dally when it comes to your seasonal car maintenance. Whether it's as simple as getting a quick oil change or installing a new air filter for your car, maintaining your vehicle is crucial if you want it to last.
Not only will it extend the life of your vehicle, but routine auto maintenance will also increase your safety while on the road, reduce your future repair costs – new engines are not cheap – and increase your resale value.
If you need BMW maintenance in Massachusetts, then schedule an appointment at BMW of West Springfield. We offer convenient, contactless drop-off service for all BMWs and many other makes and models.
In addition to checking your tire pressure and getting your regular tire rotations, you should also have your tire tread inspected. As you drive, the rubber tread on the outer edges of your tires will begin to degrade and wear out. Once that tread deteriorates down to less than 4/32 inches in depth, you will want to replace them with a quality set of new tires. It's recommended that you replace all your tires at the same time, regardless of the tread depth of the other 3 tires. (Ask us why this is important when you visit our tire shop.)

What about UHP, racing, sports and BMW tires? The same logic holds true, though it's best to check with your vehicle's manual. Some tire maintenance and rotations should be performed every 3,000 miles, while generic car tires may only need to be rotated every 7,500 miles.

We can order and install nearly all tire brands, including UHP tires for BMWs and many other luxury or sports cars.

If you're not lucky enough to live in Miami, you may also need to invest in good winter or snow tires for your SUV or truck. All-season M+S tires are an option. These tires offer unique tread designs to provide better traction in all types of wet road conditions; but they're not as good as winter tires, which are made from specially designed rubber that is more pliable in cold temperatures.
Brake Checks
A car brake inspection should be performed yearly, at the very least, though BMW owners may want to pair the service with tire rotations. Having your brakes checked regularly enables you to identify potential brake problems early, so you won't be left paying hundreds of dollars for more extensive brake repairs down the road.

Definitely do not put off getting your brakes looked at if you notice any of these telltale signs of brake failure when you stop your vehicle:
Squeaking, squealing or screeching sounds

Grinding sounds

Brake pedal vibrates or pulsates when pressed

Car "skips" or skids to a stop

Must apply lots of pressure to the pedal

Any error lights, like power steering, in the instrument panel
Always err on the side of caution when it comes to your brakes. Visit a professional brake shop or service center if you fear your brake pads, rotors or discs need to be replaced.
Auto Glass Repair
Do you need to worry about windshield cracks? In the winter, colder outside air will mix with the heated air inside your cabin. This is usually just fine, as auto glass is tempered and designed to withstand these temperature fluctuations and differences. However, when your car glass is cracked, chipped or damaged, these temperature differences have the potential to further expand windshield cracks and chips.

Cracked car windows will always worsen as the weather gets colder. Constant vibrations from the road, along with the occasional kicked-up pebble from semi-trucks, will put more stress on the glass. And, as you might guess, more stress means more opportunity for your car's cracked window to break.

That's why it's important to schedule glass repair for your car as soon as you notice a windshield crack or large chip. You just never know when the whole thing will fracture.
Car Battery Service
A car battery typically lasts 3-5 years, depending on the brand and how it's used. But even a one-year-old car battery should be serviced and cleaned to ensure it lasts another 4 years. Adding this type of car batter service to your list of fall maintenance tasks may even push your battery past the standard 5-year mark – and that will save you hundreds of dollars on a replacement.

First, test your car battery with a multimeter or an all-in-one car battery charger/tester. (You can also visit your auto service center or car parts store for a battery test, which will likely be free.) The average vehicle battery will carry a charge of about 12 volts – if yours is less (or more) than 12 volts, even after you've driven the car all morning, consider it toast.

Each fall check the car battery terminals for signs of corrosion. The positive and negative battery terminals (posts) can be safely cleaned with baking soda and a wire brush (while cables are disconnected, of course). If you notice any battery terminal corrosion on a new battery, or if the corrosion reappears shortly after cleaning, your car battery may be leaking. Have it inspected by a mechanic or at a service center.

If your car is having trouble starting, or you experience a "check engine" warning light, it may be time for a new vehicle battery? To get a quote on the best car batteries in Massachusetts contact our BMW Service Department or by searching BMW Service Near Me.