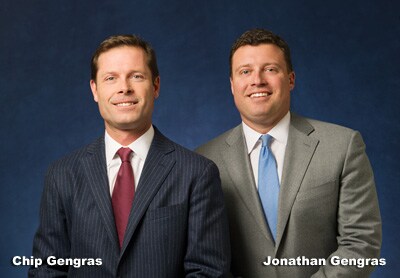 It all started in the 1930s when Clayton Gengras opened his first Ford dealership on Raymond Road in West Hartford.  Clayt went on to become one of the Northeast's most successful Ford dealers.  Seventy years later, Gengras Motor Cars is still a family-owned and operated business.

In 1970, after a long day working in the yard of his father's company, E. Clayton "Skip" Gengras Jr. decided he wanted to look at a new coupe. When he walked into a Mercedes dealership, the salesperson looked at his work attire and told him that he could not afford to purchase one of their vehicles. The Gengras' purchased that dealership the following day.  We continue to offer you a simple promise based upon the values that the original Clayton Motors was founded; honesty and respect.

Skip began his automotive career at that Mercedes store and later became responsible for operations of Clayton Motors, a Volvo/Dodge dealership on Burnside Avenue in East Hartford. Clayton Motors has since moved to Connecticut Boulevard where it remains today as Gengras Volvo/Lincoln Mercury. After moving that store in 1985, Gengras Motor Cars has grown by adding:

2000 Gengras Volvo of North Haven
2001 Gengras Harley-Davidson
2004 Gengras Chrysler Dodge Jeep Ram
2004 Gengras Chevrolet
2005 Gengras Collision Center
2008 Gengras BMW of West Springfield
2016 Upper Valley Honda
2019 Gengras Ford
2019 Gengras VW

Today, we represent eleven franchises in nine locations.  Along with Skip, his two sons are among our 350 associates who make sure that we offer a Great Deal and a Comfortable Experience every day. Chip Gengras is our President, and Jonathan Gengras is our Chief Financial Officer.  We hope you visit one of our locations soon to experience the comfort, honesty, and integrity of a Gengras dealership.
Hours
Monday

9:00am - 8:00pm

Tuesday

9:00am - 8:00pm

Wednesday

9:00am - 8:00pm

Thursday

9:00am - 8:00pm

Friday

9:00am - 6:00pm

Saturday

8:30am - 6:00pm

Sunday

last Sunday 11:00-4:00
See All Department Hours
Dealership Hours
Monday

9:00am - 8:00pm

Tuesday

9:00am - 8:00pm

Wednesday

9:00am - 8:00pm

Thursday

9:00am - 8:00pm

Friday

9:00am - 6:00pm

Saturday

8:30am - 6:00pm

Sunday

last Sunday 11:00-4:00
Parts Dept. Hours
Monday

7:30am- 5:00pm

Tuesday

7:30am- 5:00pm

Wednesday

7:30am- 5:00pm

Thursday

7:30am- 5:00pm

Friday

7:30am- 5:00pm

Saturday

8:00am- 3:00pm

Sunday

Closed
Service Dept. Hours
Monday

7:30am- 5:00pm

Tuesday

7:30am- 5:00pm

Wednesday

7:30am- 5:00pm

Thursday

7:30am- 5:00pm

Friday

7:30am- 5:00pm

Saturday

8:00am- 3:00pm

Sunday

Closed
Get Directions