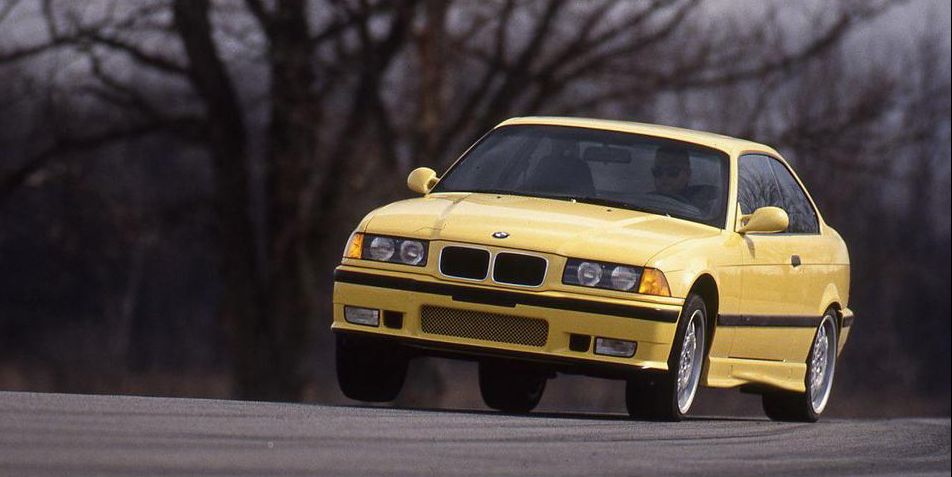 Second generation: BMW M3 E36 3.0 and 3.2.
Like the first generation, the second generation was presented with distinctive cosmetic and power upgrades from its 3 Series engineered designs. Different however from its predecessor, the M3 E36 was built specifically for the everyday road, with a production model in three body types. Those include the 2-door coupe and convertible in 1992 as well as the 4-door sedan in 1994. This represented the very first time that the M3 model brought on a 4-door sedan.
This generation evolved, beginning at the 1992 Paris Motor Show where the M3 E36 3.0 Coupe was presented with a brand-new engine — the S50 B30. This offered individual throttle bodies and a Variable Valve Timing System. The response to this model in the United States was overwhelming to say the least.
It was in 1994 that the Coupe in U.S. specs made its American public debut at the Los Angeles International Auto Show. That same year, the sedan and convertible versions were produced and made available only in Europe.
In 1995, BMW Motorsports fitted the newer models of E36 with a higher performance engine — a 3.2 liter S50 B32 to be exact — and presented this at the Frankfurt Motor Show. Production in Europe began the following year.It was in 1996 at the New York International Auto Show that the new U.S. Model of the M3 E36 3.2 was announced and this featured a specialized S52 engine and electrical traction control system. The following year, the M3 reached a new level by becoming the world's first volume-produced car to introduce Sequential M Gearbox as optional equipment.
The BMW M3 E36 3.0 had a total of eight production versions, three of which were standard production that included the European sedan and convertible models. The remaining three were limited editions made for the European and U.S. markets. The 3.2, however, did not have any official variations in special production versions