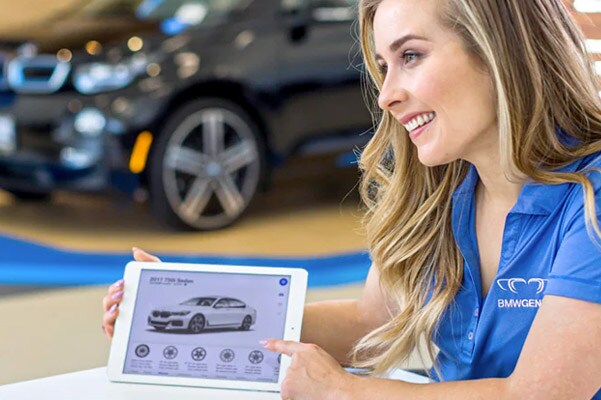 Explore The Convenience Of BMW Support
Driving a BMW is a suppose to be a luxurious experience, but now with the all-new BMW Genius program, it can also be convenient. The team at BMW of West Springfield is pleased to help you explore the unique features of this BMW support program that assists you with maximizing the potential of your luxury coupe, SUV, or sedan.
All About The BMW Genius Program
What is the BMW Genius? This program designed to suit your lifestyle and enhance your driving experience. The BMW support program puts you in touch with a BMW Genius who can set up your vehicle's technology, demonstrate vehicle features, and help you explore the driver-assistance technologies with your model.
The primary goal of this support program is to help you maximize the potential of your SUV, sedan, or coupe without having to travel to our BMW dealership. This dedicated team can answer all of your product questions via the BMW Genius hotline or through the BMW Genius smartphone app that is compatible with iOS and Android devices.
Get real-time updates from a product expert who can not only assist you in finding ways to enhance performance, but also infotainment, connectivity, and entertainment in your luxury vehicle.
The Assistant You Want And Need
As your go-to resource for all things related to your luxury vehicle, each BMW Genius is available for questions 24/7 through the BMW Genius hotline. All product experts are salaried employees who do not work on commission. This ensures that you have experts as your personal assistant on the road who are committed to helping you explore the innovative safety and tech features of your vehicle.
The team at our BMW dealership understands that high-end technology can be overwhelming. We also want you to be able to utilize all of the unique features available with your luxury sedan or SUV.
Although our service technicians and sales team reviews all features of your vehicle at closing, it's likely you will have more questions the more you drive. That's why this BMW support program is so important. You get the answers you need and fully maximize the potential of your vehicle thanks to each BMW Genius.
Get To Know The BMW Genius Program
BMW of West Springfield is committed to customer satisfaction, which is why we are pleased to showcase the BMW Genius program. Who is a BMW Genius? They are luxury car owners who, like you, want to fully utilize all of the performance features and technology available with BMW models.