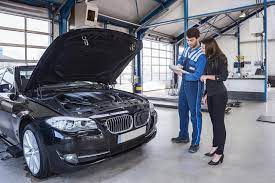 Anytime you visit our BMW service center at BMW of West Springfield, our certified mechanics will be ready to help you with all of your automotive needs. We can also answer any questions that you have, so don't worry about "bothering" us. You can learn a lot more about your vehicle and how to take care of it if you ask questions like these.
How Long Will Service Take?
Some service tasks are quick, but others can take some time. You can always wait in our comfortable lounge for some of the faster services, but if we need your car for a long time, you can also look into service loaners so you can still get around.
What Kind of Parts Are You Using?
It's always a good idea to ask what kinds of parts your mechanics are using. Some garages use reconditioned parts, while others use aftermarket parts from different manufacturers. At our dealership and service center, we always use official BMW parts in our repairs.
Are New Parts Backed by a Warranty?
No one wants to bring their car in for service only to encounter another mechanical problem shortly after. That's why it's smart to ask if the new parts going into your BMW car are backed by a warranty. If there's an unexpected part failure or defect, you might be covered.
Can I Have a Detailed Invoice or Receipt?
We can provide you with a detailed invoice that shows all of the services you paid for. Our customers always appreciate transparency, but these receipts have another benefit. They make it easier for you to keep track of when you had certain services and when you might need them again.
Can You Help Me Create a Maintenance Plan?
If you want your car to live a long and healthy life, sticking to a routine maintenance plan is crucial. Our mechanics can help you work out a maintenance plan and tell you about important service milestones. We'll also make sure that you have the knowledge you need to keep your luxury car in top shape.
For all of your automotive needs, make our BMW dealership of West Springfield your first stop. We look forward to assisting you!