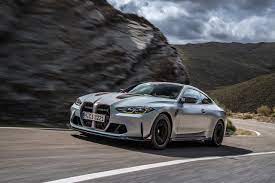 The "unlimited" Limited Edition
When it comes to the 2023 BMW M4 CSL, a lightweight, high-powered coupe, the sky is the limit! Knowing no bounds, this vehicle's claim to fame begins with it being the fastest BMW ever produced! Add to that intense agility, exceptional precision and advanced lightweight construction, and this vehicle is a true leader and winner both on and off the track!
Literally born for the race track, the Limited Edition M4 CSL has earned the fastest Nurburgring lap time of any road-ready BMW, taking just 7:20.2 to complete a lap. That is due in large part to a 3.0-liter BMW M TwinPower Turbo inline-6 cylinder engine that delivers a whopping 543 horsepower, while a re-tuned suspension that is lowered by 8 mm results in increased precision and supremely dynamic handling on the open road. Maximum torque is at 479 pound-feet.
Performance is also brought forth with M Carbon Ceramic Brakes with red calipers, which augment the lightweight matte black forged alloy wheels with CSL-exclusive design. This vehicle sits on top-performing available Michelin Pilot Sport Cup 2 R tires.

Style conscious!
From an ultra lightweight carbon fiber hood and front splitter to a carbon fiber rear diffuser, this vehicle has a muscular, powerful stance and exceptional aerodynamics. Stylistically, the CSL's visual enhancements are all about performance, which at front, means that the automaker optimized the design for maximum cooling potential and generating down-force. High and low temperature cooling circuits ensure the car's various components maintain their optimal operating temperature during street and track driving. The exterior also features a trunk lid with integrated ducktail, which adds extra stability and maneuverability at higher speeds. Standard LED Headlights and Laserlight add to the sleek appearance, with yellow accents a further nod to all-out style. The aggressive aesthetic is complete with new taillights and laser technology, with the M4 CSL also boasting eye popping touches like signature CSL badging.
Inside are standard M Carbon Full Bucket seats, which are wonderfully lightweight and trimmed in black Merino leather with red accents. Removal of rear seats as well as a lightweight center console serve to further reduce the weight of the CSL. The interior is also marked by CSL-specific upholstery and contrast stitching, with thought and legacy woven into every detail. In addition, more carbon-fiber reinforced plastic is used inside, including for the center console, which is done purposefully in order to shave off another 9 pounds.
Lighter/faster than ever before!
It is important to note the great lengths BMW went to reduce the weight of this vehicle, eliminating a staggering 240 pounds or 108.8 kilograms, thus giving this coupe 3,640 pounds in curb weight. To achieve this, BMW cut the rear seats by 46 pounds, switched to lightweight sound insulation, thus shaving 33 pounds, as well as used interior and exterior carbon-fiber-reinforced plastics, resulting in a loss of 24 pounds. They also installed a titanium rear silencer to spare 9 more pounds.

The vehicle's standard M Carbon ceramic brakes took off another 31.5 pounds, while the automaker's use of CFRP for the hood and trunk helped reduce weight by another 3 and 15 pounds respectively.
Other components that resulted in weight loss included the kidney grille, rear lights, floor mats and automatic climate control system, resulting in 8 more pounds, with the use of carbon fiber for the center console cutting off another 9 pounds. M Carbon full bucket seats dropped another 53 pounds off this fantastic vehicle.
All of this results in all-out speed that is sure to leave just about every other vehicle in the dust!